NORAD to Conduct Air Defense Exercise Around Washington, D.C. Area After Fourth Object Shot Down
The North American Aerospace Defense Command, or NORAD, will conduct an air defense exercise on Tuesday, February 14, between midnight and 2:30 a.m. EST, according to officials, around the Washington, D.C. area. The announcement came after a fourth object over the past week was shot down on Sunday, this time over Lake Huron in Michigan.
In this photo provided by Brian Branch, a large balloon drifts above the Kingston, North Carolina area, with an airplane and its contrail seen below it.  (Brian Branch via AP)
The exercise on Tuesday will be headed by the Continental U.S. NORAD Region and aircraft will include F-16 fighter jets from NORAD, MH-65D Dolphin Helicopters from the U.S. Coast, C-12 aircraft from the U.S. Army and Cessna 182T aircraft from the Civil Air Patrol. Officials said some flights may take place at 2,500 feet, making them visible from the ground, and if weather interferes with operations, they will commence the next day at the same time.
The agency said it conducts routine exercises that include a variety of scenarios, whether it is a hijacking, response to unknown aircraft, or airspace restriction violations, and that all exercises are controlled and planned out.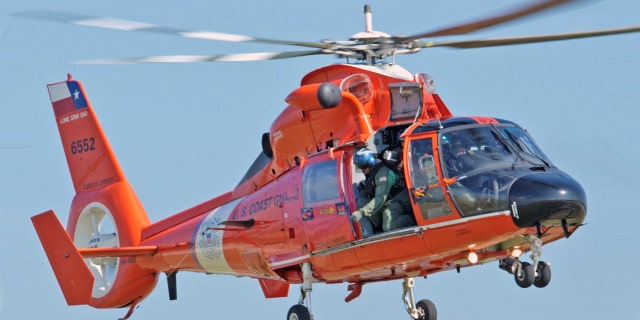 Several MH-65 Dolphin helicopters were part of the search efforts. (U.S. Coast Guard)
Operation Noble Eagle, or ONE, is an aerospace warning and control exercise for North America that NORAD will conduct. Falcon Virgo, another routine exercise, supports ONE.
NORAD's Top Priority: Defense of North America
"The Defense of North America is NORAD's top priority, and NORAD remains on alert around the clock, every day," Lt. Gen. Kirk Pierce said. "It is an honor to serve our citizens."
NORAD has been identifying and intercepting potential air threats to North America for more than 60 years.
US Military 'Decommissions' Unidentified Flying Object Over Great Lakes Region
Up until Sunday, the U.S. shot down three objects over North America during the past week. The first object taken down was a Chinese spy balloon off the coast of South Carolina on Feb. 4. The second and third objects are believed to be smaller balloons, which were shot down over Alaska and Canada, respectively.
Greg Wehner is a breaking News reporter for Fox News Digital.